SmartFactory is a platform for aggregation and analysis of large volumes of real-time data from plant-floor operations in disparate industrial environments.
Develop
Following the open-source movement, our platform empowers you to develop your own intelligent IoT solutions for cross-platform and across plant floor manufacturing operations. 
Integrate
We simplify the digital transformation process on your platform floor by unifying communication and plant-wide applications into a cloud-enabled visualization platform.
Scale
Our platform is highly flexible and highly scalable allowing you to conveniently start from an absolute low-cost and low-scale to industry-wide enterprise solution.
Smart Industrial Dashboard
Smart Factory | Open source IIoT platform brings productivity improvement to any shop floor with its comprehensive Smart Industrial Dashboard (SID) that seamlessly connects all industrial assets and business systems, and provides real-time data collection and monitoring.
Our Platform connects and collects data from any industrial asset, regardless of brand, age, or process, and reports are accessed anytime, anywhere via browser devices – including desktops, laptops, tablets, or smartphones. Our cloud-enabled IoT platform includes customizable dashboards and alerts and helps identify manufacturing bottlenecks and inefficiencies and streamlines manufacturing processes.
Get Quote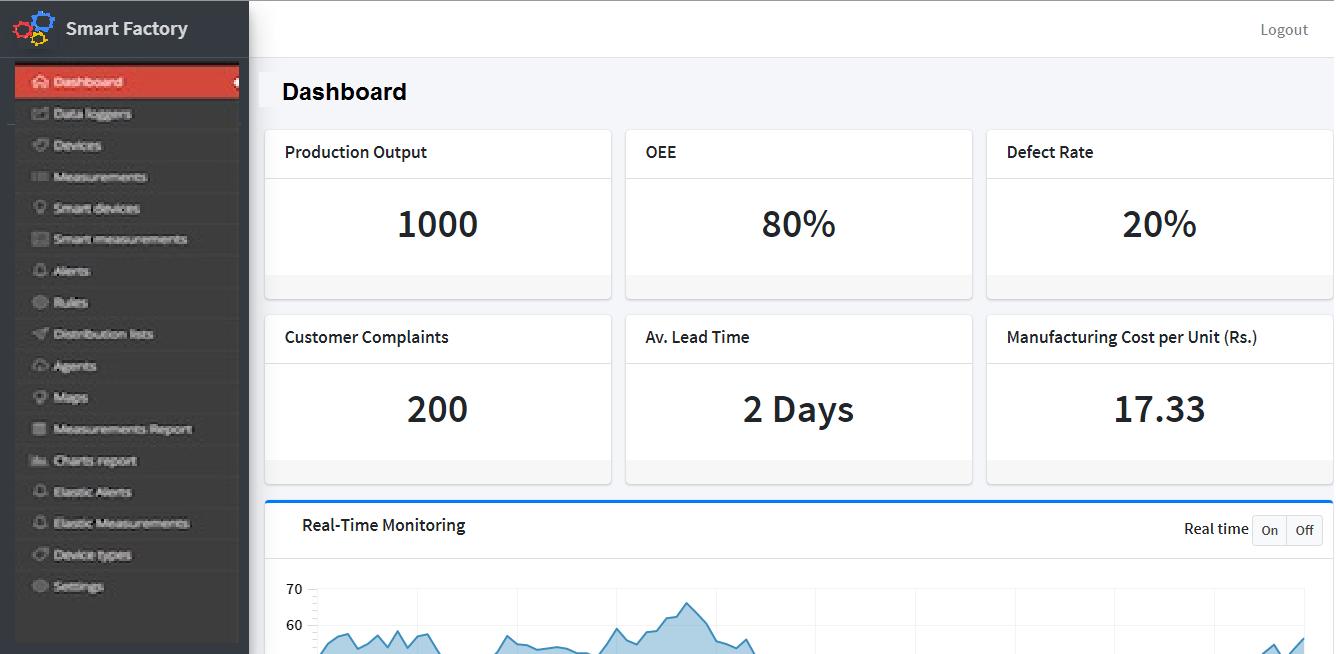 Pre-Order Now!
Get an exclusive 50% discount on the professional edition with a pre-order before 31st December 2020
Data Loggers
Integrate your data loggers with our platform to get a unified visualization of cirical KPIs from across the plant at a single location.
Devices
Get all your industrial devices in one place giving you visibility, availability and full control of your plant operations.
Alerts
Generate alerts while monitoring critical parameters on your plant floor to respond timely to unexpecting situations. 
Rules
Our comprehensive rule engine allows you to develop your own information flow that would help you monitor the floor.
Maps
Our Real-Time Logistic Tracking (RLTR) system uses maps to help you track and navigate your fleet and complete supply chain.
Reports
Empower your organization with dynamic reporting and gain valuable insights into the production systems for proactive approach to optimizing operations.